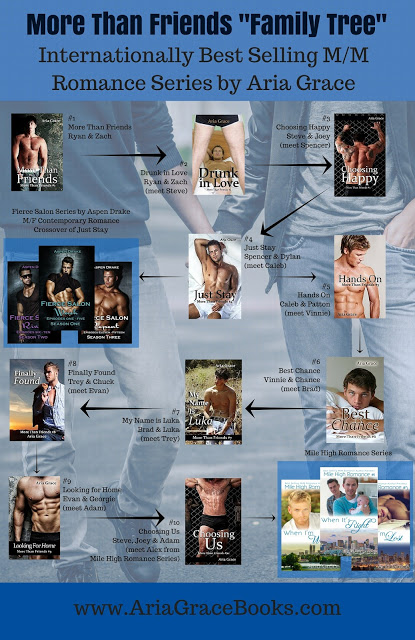 Books 1-3 are free for a limited time
Book 4: Just Stay
Dylan didn't have a clue that the nerdy entrepreneur watching him was actually trying to take down his employer in a crime family setup. When Spencer first met Dylan, he couldn't take his eyes off the beautiful bodyguard. And when Dylan stepped in front of him, taking a bullet in the shoulder that should have been his, Spencer knew his life would never be the same.
Amazon: http://bit.ly/JustStay
Nook: http://bit.ly/JustStay_nook
iTunes: http://bit.ly/JustStay_itunes
Book 5: Hands On
Caleb is a smart kid that fell on hard times. He's working his way through community college by spending half his nights as a bartender at Rays and the others as the resident prostitute. Patton is new to town and trying to build up his clientele at the luxury spa he works at as a masseur. When Patton offers a comp massage to the guy behind the bar, he has no idea what he's getting himself into.
Amazon: http://bit.ly/handson_amzn
Nook: http://bit.ly/handson_nook
iTunes: http://bit.ly/handson_itunes
Book 6: Best Chance
Vinnie is happy as a bartender at Ray's and not looking for anything serious to complicate things. He has great friends and a simple life. When Chance comes into his bar, he brings more than just memories of the summer they spent together in high school.
Amazon: http://bit.ly/BestChance_AMZN
Nook: http://bit.ly/bestchance_nook
iTunes: http://bit.ly/bestchance_itunes
Book 7: My Name is Luka
Brad spends his days swinging a hammer and his weekend nights pouring drinks just to keep his nose clean. At only twenty-one, he's already had enough trouble to last him a lifetime. But when he realizes the boy upstairs has new injuries that coincide with loud shouting matches from that apartment, he knows he has to do something to help.
Amazon: http://bit.ly/Luka_amzn
Nook: http://bit.ly/Luka_nook
iTunes:

http://bit.ly/mynameisluka_itunes
Book 8: Finally Found
For the past six years at the University of Oregon, Trey has been completely focused on studying. With no time for relationships, he's had to rely on the occasional hookup to fulfil his physical need for companionship. Now that he's almost done with his Masters in Biology, his attention is on his career. Relationships will have to wait. Again.
Chuck is hitching his way down the coast, taking odd jobs to survive while trying to stay off the radar of an abusive ex. He just wants to get to L.A. in one piece so he can start over. His job skills are limited, but even working in porn will be better than what he's running from. Hiding is hard but Chuck isn't ready to be found.
Amazon: http://bit.ly/FinallyFound_AMZN
Nook: http://bit.ly/FinallyFound_bn
iTunes:

http://bit.ly/FinallyFound_apple
Book 9: Looking For Home
Evan was heartbroken when Nick left him two years ago to live a party life. He focused on his job as a truck driver and put his own needs on the back burner.
Georgie is a favorite at Paddles, providing personal entertainment to anyone looking for a sexy femme boi.
When they meet at a party, it doesn't seem like more than a superficial connection. Neither expect to find actual happiness from each other.
A sweet and heartbreaking story that you won't be able to put down until it's finished.
Amazon: http://bit.ly/LookingForHome
Nook: http://bit.ly/LookingForHome_nook
iTunes: http://bit.ly/LookingForHome_ibooks
Book 10: Choosing Us
Steve and Joey have a perfect life. They're happy with the home they've built together and have no plans to change anything. When Joey runs into Adam, a past coworker from his days at a male brothel, old feelings are stirred up.
Adam has been living on the streets, barely getting by, but not without resorting to a vice he thought he'd long kicked. He's losing hope and afraid to trust anyone when Joey walks back into his life.
While searching for a missing friend, Joey finds Adam in a park. Sick and alone, Joey can't leave him. He takes him home, knowing he and Steve can help him find what he's looking for.
It's awkward at first, but feelings between the three men quickly develop. Promises for a future are made but Adam has no intention of being around long enough to see them fulfilled.
Amazon: http://bit.ly/ChoosingUs
Nook: http://bit.ly/ChoosingUs_nook
iTunes: http://bit.ly/ChoosingUs_ibooks