*•.¸(`*•.¸(`*•
IT'S LIVE •*´)¸.•*´)¸.•*´
The first Truly Yours book is out and ready for you. An MPreg Shifter series.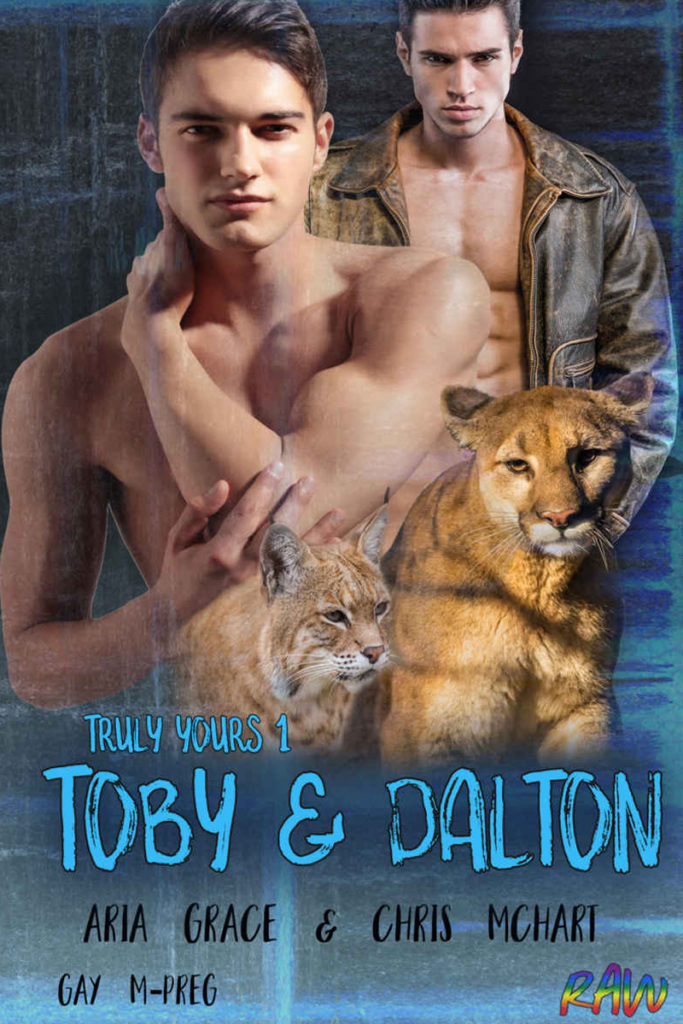 Synopsis
Finding a shifter mate is tough.
Dalton is open to love, but the few dates he's been on have been terrible. He's just about to give up on searching for happiness when a young shifter passes by him, providing hope that maybe this time he'll find love.
Toby has been hurt one too many times. He always picks the wrong men and doesn't believe he deserves anything better. When his best friend forces him to check out a shifter matchmaking service, he doesn't have any hope that things could work out for him. Because, why should Dalton be different than the others?
However, fate knows better. And both men might be in for the shock of their lives.
Amazon.com | Amazon.de | Amazon.co.uk
Excerpt

"Hi, Toby. Nice to meet you. I'm Nathan." The big guy shook my hand and smiled. His lean frame was about half a foot taller than mine. His light brown hair looked good with the simple, yet somehow stylish clothes. My cat immediately recognized him as an alpha…a jaguar? Wow, I hadn't met many of them. I tried to recall whether I'd seen him at the meetings, but I came up blank. Either he didn't attend the local meetings, or I hadn't seen him. It wasn't mandatory to turn up there, although most shifters came to check out the competition and look for a hookup.

"Please sit down, and let's get started."

I sighed inaudibly and dropped to the indicated chair. Let the fun begin.

Nathan sat down in front of me, with much more grace than I would've expected, but then, he was a cat. Usually, you didn't use clumsy and cat in one sentence. He looked at me across the tidy desk and folded his hands. "Okay, so, the first step is that you fill out a form with lots of questions. That way, we'll learn a bit about you and what you prefer. Then I might ask more questions to clarify whatever comes up. After we have your profile ready, we'll use an algorithm that is a mix of computer science and instinct to match you up with another shifter. We might not find a perfect match on the first try, though. It takes time and patience, but so far, we've found quite a few true mates." He smiled. "Are you ready?"

Not really. But you probably won't be up for waiting until I am.

I forced my lips into a small smile. "Yes, let's do this." Damn you, Jason. Damn you. Nathan handed me a sheet of paper on a clipboard, and I went over the first questions:

Name, Age, Species, that was all pretty easy. I went to work, adding my contact information and general interests, then some more, like Job, Hobbies, Education. Those took a bit longer, but I scrawled the answers on the form.

Preferences was the last headline, with several points below. Do you prefer male or female shifters, or both? Well, that was easy. Are you alpha, beta, or omega? Wow, I wouldn't have thought they'd go into so much detail. I was an omega, but I didn't really get why they were asking. I either clicked with someone or I didn't. Whether he was an alpha or not didn't matter to me. Nevertheless, I wrote omega in the indicated line.

If you prefer men, are you more active or passive? What the fuck? My eyebrows shot up.

"Nathan…um, do you really need to know what I want to do in bed?" I asked quietly.

He looked up from whatever he'd been reading. "Yeah, Ryker added that a while ago since we had some clients who complained that they were set up with dates who were exclusively tops or bottoms. For some people, that was an absolute deal-breaker.

I couldn't imagine letting someone go just because he was also a bottom. But then, if it was an absolutely incompatible match, I could see why it wouldn't lead to a relationship. I wrote passive on the line, but then I looked up again. "I said above what I am, but isn't it true that all alphas are tops and all omegas are passive?"

"You think? No, they're not. Generally, yes, there is a clear tendency, but you can never be sure. I know alphas who love to bottom and want someone to take over the reins sometimes. I've also seen omegas who are more dominant than some alphas in the bedroom. So don't be fooled by the status. Just because alphas outrank betas and omegas in society doesn't mean they're always dominant in the bedroom."

Oh. I hadn't known that. Well, I was a bottom and an omega all the way, so I needed someone who would take care of me. It was as simple as that. But I still seriously doubted they'd find someone here for me, so it was likely a moot point.

I handed the clipboard back to Nathan. He read it over, laid it on his desk, and then looked at me. "So, that was the first part. Thank you. Now, it's time for the interesting questions. Tell me about yourself. Tell me about your dream date and your dream mate. Nothing is too silly or insane. If you could describe the perfect date, what would you do?"

"Hmm…" I closed my eyes. I hadn't ever thought about it before. I considered telling him some bullshit, but lying to him wouldn't help me. Oh, Jason, how I could kill you… "Let me think. I want to have…a good dinner. An interesting conversation, not world politics, but I don't want to discuss football results either. Maybe we could go to a movie or to a concert, although I prefer pop or rock, nothing classical. Afterward, a stroll through the woods? Maybe some running so our animals could meet."

"Okay, that sounds pretty good. Anything else? How would you like the evening to end? I mean, does your dream date end with a kiss because you like to take it slower, or do you head straight to the interesting stuff?"

Heat flushed over my face. This was definitely not what I would tell someone I'd just met.

"Can I refuse to answer that one?" I asked with an awkward laugh. More heat flushed my face, and I fiddled with a loose thread on my jeans.

"Of course, and I fully understand if you do, but we're simply trying to learn as much as possible. If you tell me you like to date ten times before you even think about kissing a guy, then I won't set you up with someone who thinks a date is wasted time unless you end up between the sheets with each other. We're doing our hardest to find your true mate, and if you give us as much information as possible, we can do our job better. That way, you won't have to suffer through dates who aren't your match. However, I know the questions are quite intimate, so I fully understand if you don't want to talk about it."

He sounded sincere, and even though I really didn't like the question, I started thinking about it. What exactly did I want from a date? I usually went at the pace set by the men I dated, but I never really stopped to think about my wishes or needs. If they wanted sex, they usually got sex, if I liked them enough. It was like a chore I had to do. When we had a nice evening, we got to the sex part. It was as easy as that. Yes, I usually had some fun, and the sex was good, but…I'd never actually told someone I wanted to go home with them. Or not. I just took the easy path.

I ran a hand through my hair and exhaled then looked up to meet his gaze. "I'm sorry. Your question surprised me. I guess I like to have a good time, laugh with someone, and then see how the evening ends. I'm not opposed to getting intimate on the first date, but more than that, I simply want someone I can trust, someone who shows me he wants me, not just any warm body. I'd love to have a partner who has time for me, enjoys simply being with me, whether it's an evening in front of the TV or a dinner and a nice conversation." I stopped, face glowing. I hadn't meant to get so deep into detail, but I figured since I was already there, I could tell the truth. "So, if you can find someone who does all that…"

"That sounds doable." Nathan smiled at me, and I relaxed a bit.

"Okay, what else? Right, the fees. Sadly, there is no way around that."

"Yeah, no worries. Just tell me." I should've forced Jason into paying as revenge for dragging my ass in there, but it probably wasn't worth the hassle.

I listened to Nathan telling me about the payments and stuff, all the while trying not to fantasize about how nice it would be to meet a guy who fit my requirements. There wasn't someone out there for me, and I needed to stop dreaming about it. That didn't stop me from wishing, though. Even though I hated myself for getting my hopes up—which I absolutely refused to admit—I couldn't stop the little glimmer of hope blossoming in my heart. Damn it. I was done with men. I didn't need another one. They were all the same.
About Chris McHart
Chris McHart lives in Germany, with her husband, slave, Dom, partner in crime, and muse (all in one person, not even she's that kinky!). She loves her husband, men in kilts and Scotch Whisky. Her idea of a perfect evening is to curl up with her laptop and write (the other options are not suitable to post in public).
She also owns LGBT Romance Deals, a great newsletter with freebies, deals and hot releases.
Homepage: http://www.chrismchart.com
Homepage: http://www.lgbt-romance.com
Newsletter: http://www.subscribepage.com/x0i5n4
Facebook: https://www.facebook.com/profile.php?id=100008256641886
Facebook Author page: http://www.facebook.com/chrismchart
Twitter: www.twitter.com/chris_mchart
More books by Chris McHart
Alex's Surprise (Gay M-Preg) Unexpected #1
Saving Alex (Gay M-Preg) Unexpected #2
Mate Me, Hate Me, Date Me, Love Me (Gay M-Preg) Unexpected #3
Two Ruined Christmas Eves
Small Steps (Rainbow Awards Runner Up!)
Grenzen (Love in Germany #1)
Expanding Horizons (Love in Germany #2)
Never Wrong
Sexy to Go Halloween Box Set
Storming Love (Vulcano) Daniel & Cameron
From Lon To Adam
German books:
Doppelt Ruinierter Heiligabend
Langer Weg zum Glück
Von Lon An Adam
Italian books:
La sorpresa di Alex (Sorpresa #1)
Salvando Alex (Sorpresa #2)
Amami, se puoi (Sorpresa #3)
Due vigilie di Natale disastrose
About Aria Grace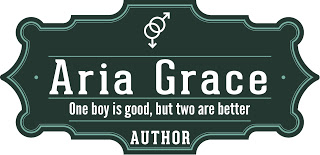 Born and raised in beautiful California, Aria enjoys the year round sunshine and laid back environment of the west coast. Her career started out in tech writing and web development and has evolved into all things marketing with fingers in everything related to book publishing.She lives with her husband and two children and more pets than she can keep track of. Despite her crazy schedule, she loves the time she carves out to read and write. Whether it's on the beach or on the couch at 2am, she is a woman obsessed!She loves to hear from readers so please feel free to drop her a note or visit her at www.ariagracebooks.com.
If you'd like to know when Aria's next book is coming out or where she'll be signing, join her mailing list at:
http://bit.ly/AriaGraceFanList
More M/M Romance books by Aria Grace:
More Than Friends series

Mile High Romance series

When Doves Cry (#10)
Learn more at www.AriaGraceBooks.com or become a kick ass fan and join my mailing list for updates and free book opportunities.
ariagracebooks@gmail.com
https://twitter.com/AriaGraceBooks
https://www.facebook.com/ariagracebooks
http://www.amazon.com/author/ariagrace